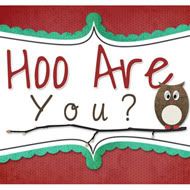 Every week I participate in this
hooo are you ove @
Night Owl Crafting
It's so fun, plus you get to know me a little better!
Here are the questions this week:
1. Are you married/in a relationship/single? For how long?
I've been in a relationship with Taylor for almost 2 years, May 11 is our day!
we're ready to be married, just waiting on my ring to arrive
:)
2. What do you do for a living? Do you enjoy it?
I'm a postal worker. No not the crazy kind, LOL, I work night shift..blahh.. at the processing plant.
I run a machine that processes mail.
I've been very lucky to get such a great job, going on 4years.
My dream job is a interior designer/DIY-er
HGTV is my show!!!
3. In what state do you live in? where were you born & raised?
I live in the beautiful state of North Carolina
Lived here all my life, we're 20 min. from Boone and 40 min. from Charlotte.
It's the perfect location! I love it!
4. Do you have children? If so, how many? If not, do you want them?
I do not have children, but Taylor and I would love to have 2.
He wants boys, but I'd love one of each!
5. Who is your favorite blogger to follow and why?
This is a hard question, every blog I follow I love for a specific reason.
But a
BIG shout out to my good bloggy friend
Lauren
over @
The Elephants Trunk.
She has been so
helpful,
nice,
kind,
amazing!
She helped me when no one else would!! We help each other out, and I think that's the way it should be. I'm so glad to have this good relationship!
I just wish she didn't live in Texas
:(