WOAH! Lets just say I have been on my death bed
and im soooo glad to be feeling some what better.
The past three days have been hard-No food, No blog, No crafts!!!
UGHH!! That Virus kicked my butt!!
I had so many cool Thanksgiving projects planned too...now I'm afraid
I may be a little too late ;( Its ok....I still have Christmas!!!
I do have some news though....its almost 2 months blogging for me!! yay!
Monday my Chalkboard Containers got featured over @ Organize and Decorate Everything!!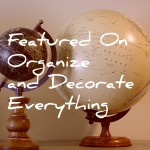 YAY!!!
And I'm feeling better than I have been!!
But i did have a excellent nurse...who took very good care of me
he even found me a couple craft books on Amazon!
such a sweetie!!
Next post will be better
and will have a CRAFT!
;)