I was at Family Dollar the other day looking around when I
saw the coolest thing...a Sunburst mirror
But there was NO way I was paying $10 for it
I knew I HAD to make one!
Soo I started looking around on bloggyland and found a few sites that
had already attempted it...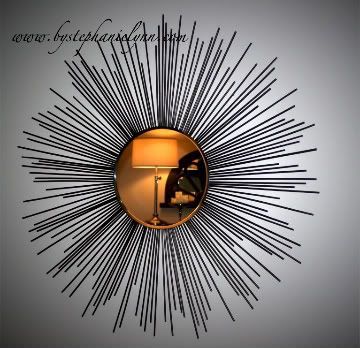 And here is mine
Here is what you will need to make one
*Mirror--mine was 6"
*Dowels--mine was 1/8"x12"-30 pieces
*Popsicle sticks
*Hot glue gun
*Black spray paint *optional*
*Baby circle mirrors
Start by dividing out your mirror
Spray paint your rods and sticks *optional*
Start making your design and hot gluing
Flip over and add the small mirrors to the ends of the
dowel rod
hang and enjoy!
Total Cost:
Mirrors: $1.50
Dowels&Sticks: $1.00
Total:$2.50!!!
:) I love my new mirror!!